Expectation Vs Reality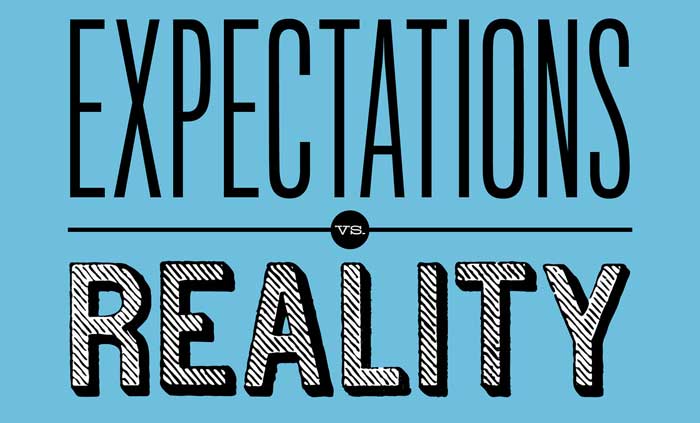 Expectation Vs Reality? No more!
Let the reality meet your expectation
How many times have you felt disappointed when your reality failed to match with your expectations? We know, must have been many times. It is very easy to get tempted by the amazing lifestyle of the celebrities. We too want our events to be as grand as theirs but often falter because of the stark differences between the reality and the imagination. Here are five tips which will help you to attain your expectations with ease:
Shortlisting the themes - The first step is to choose your theme wisely from the wide array. Often many things look great onscreen but fail miserably in real. Get your event planner involved from this initial step so that they can introduce you to all new trending themes.
Venue Selection - While choosing your venue, you need to check if it supports the idea and theme which you are planning for. You have to consider other factors like budget, location and other conveniences. Get it well approved by your planner so that relevant feasibilities are checked.
Picturesque quotient - In this phase, you need to roll in your photographers. Their team can advise what all essential elements you need so that the pictures come out well. The lighting and backdrop should be fixed after the consultation with the event planner and the photographer. Keep track of your budget since add on elements are definitely going to increase the costing. There is no point in complaining later. Keep it transparent.
Getting your dream look - Trying to imitate someone will never help, you can only get into a better version of your own self. Start working out well in advance. Get a trial look before finalizing your make up artist. Shop well in advance to get the most fitted attires and accessories.
Create the environment on the D-day - At the end of the day, the life of an event lies on its guests and hosts. Make sure you be happy and your guests feel the warmth too. Set the spirits high. Getting the dream look is the cumulative output of all these factors. Take care while you plan one. And don't important to feel good because that is what matters.
Get ready, go steady and collaborate!
Credit: Krittika Writes